1. WHAT IS KEYWORD RESEARCH?
First of all, you will have to know about 

What is a keyword?
A Keyword is a particular word that users enter into search engine to find a specific topic". Keyword research is a practice by which one can identify popular words and phrases that people enter into search engine in order to know about what words or phrases they have to use to rank their websites at the top.
2. Edit FACTORS WHICH INFLUENCES KEYWORD RESEARCH
Search demand is the very first factor which influences the keyword research. So, you have to measure the level of demand for your targeted keyword in search engine for both long-tail keywords (means a phrase of 3-4 words) and short-tail keyword ( means a phrase with only 2-3 words) . It is important because if you know what people are looking for in search engine and you have that, you can easily target them and drive to your site.
I will show you some screenshots of targeted keywords which have high demand in Search Engine.  You can check it out.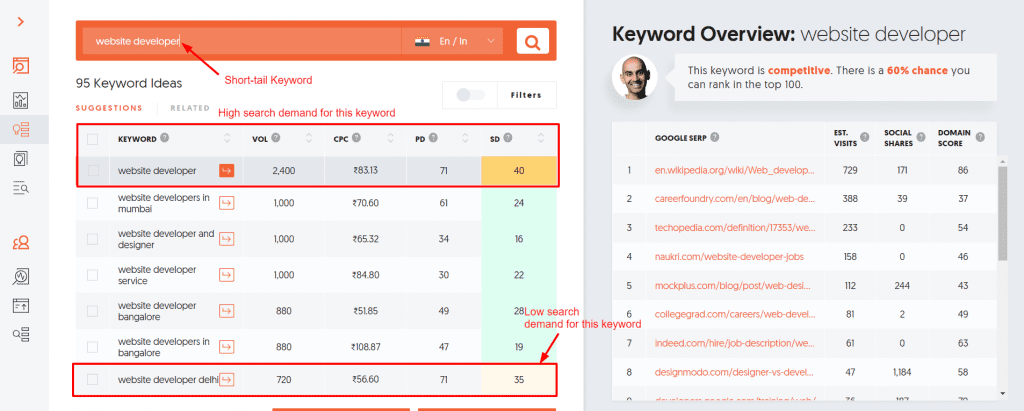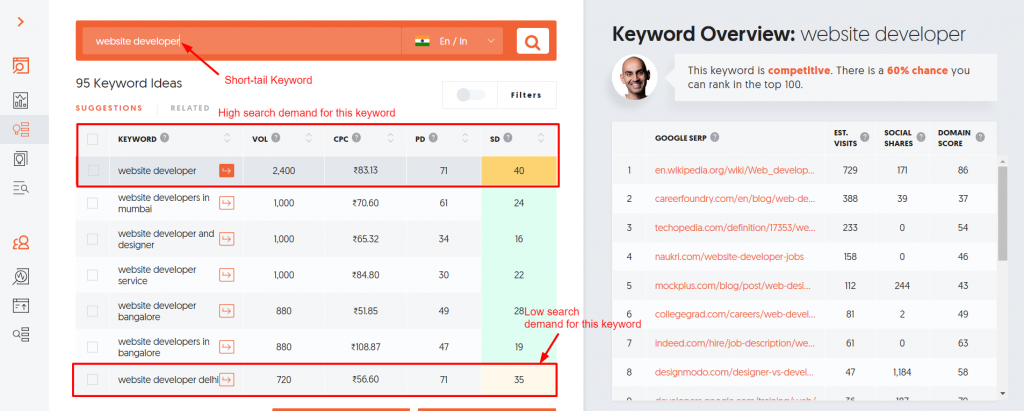 The second factor is surfer-Intention. While providing any type of service you will to understand first-
"What surfer's intentions are?"
"What they want by searching a particular term?"
"Are they only wanted information or want to purchase something".
And ask yourself some questions too–
"Will my service provide the searchers need?"
"Will my target keyword drive traffic on my site",
"Will my targeted keywords left first impression on searchers"—
You will have to consider these types of question while choosing keywords for your website.
While choosing any keyword you have to look at its competition in SERPs. You have to check which keywords have high competition and low competition in your niche market. And also check which keywords are profitable for your site and how much time it would take to rank your sites. Competition is everywhere in the market, so please take precise decisions while choosing keywords or phrases for your sites and check all parameters before betting on that keyword.
The budget is the backbone of any marketing plan. Hence, it is a crucial part of any keyword research. You have to know what sort of amount or investment you and the client can spend off on Keyword research. As an example–If you have a lower budget and you want to rank a service on a search engine, you obviously choose a keyword key that is in your budget and have low competition on it. But if you have a bigger budget you will never scare by using a high demand keyword and nor its competition in the market. Therefore, the budget also tells one to which keyword is suitable for their service or which keyword they should have to use.
Time is another factor that influences keyword research. Assume you have a short period of time for a site to rank and make it visible on SEARCH ENGINE. And you can't wait for 3-6 months or years for the result. So, what will you do?
Obviously, you can't consider the high intent, demanding keywords that have high competition for ranking in a short period of time. It's a waste of time and money for you if you use these keywords for ranking. Rather, you should use keywords which have low competition in your niche market to rank on search engine and visible on the search engine. But if you have 2-3 years or more for results on SERPs, so probably you will choose keywords differently for your sites.
When you choose your keywords you have to consider whether these keywords are profitable for you or can take to you to your Goal. They can make a revenue for you or not. How much traffic these keywords could bring to you. With all these, you have to also look which services provide you better profit or revenues. Therefore, choosing the best keyword is most important but making revenue of that keyword is also important.
3. TOOLS FOR KEYWORD RESEARCH
There are many tools that can help you in your keyword research. Some of them are paid and some are free. Paid tools give you full access like they will show you full information regarding any terms. In Free tools, you get the information regarding your keywords to small extent, unlike paid tools. But for the beginner, I will suggest using free tools to know about keyword research.
Some of the free tools I am suggesting here. You can use them.
4. WHY KEYWORD RESEARCH IS IMPORTANT
Keyword Research is one of the factors of SEO Optimization. It is important because effective keywords rank website very well on SERPs and bring high traffic, revenue and profit. You can see a difference between high ranked website which has very high traffic than low ranked website which has no traffic. Keyword research helps people to know about which keyword has highest intent or demand and how much competition on that keyword. So keyword research is essential part for any SEO strategy and for building a website.